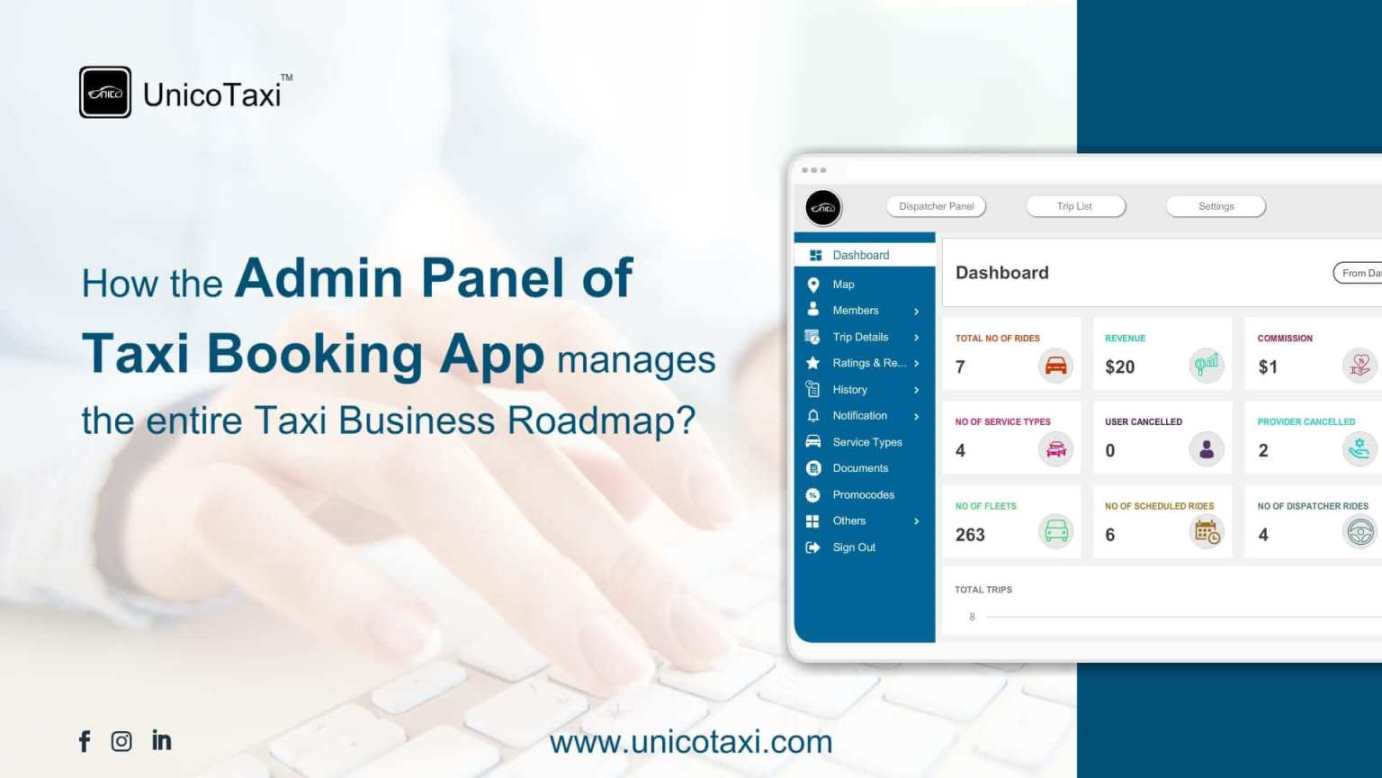 The admin panel of the taxi booking app is the place where the admin can manage all the procedures between passenger and driver.
For somebody who is quick to buy an on-demand taxi booking software solution must know the web panel functionalities.
The admin panel, not at all like the passenger app and driver app, is exceptionally refined with access to a ton of reports, history, statistics, operational guide, and whatnot.
I figured taxi booking software would be better from us as on-demand taxi solution providers, to clarify how the admin can oversee all in the admin panel.
Let's see the admin panel's 10 basic functionalities one by one.
Passenger Management
Driver Management
Admin Dashboard
Dispatcher
Real-time Analytics and Reports
Location Management
Promo Code Management
Rental Package Management
Promotions and Advertisements
Trip Cancellation by Rider/Driver
Ending Up
Passenger Management
Registered passenger's details with the taxi management app can be gotten to in the admin web panel. Passenger's inquiries and issues regarding a taxi booking app or rides or drivers are dealt with by the admin.
Also, the admin can access the ride history, check passenger's reports and revenue gain from rides.
Driver Management
Admin is able to check the driver's background by verifying their documents and license before being conceded into taxi company. Admin can monitor the driver's activities on the dashboard itself.
When a driver veers off from the laid conditions of the company, the admin can expel the driver and also oversee the driver's ratings then anything below the edge is dealt with.
Admin can add new drivers, fleets and refine entire accounts of taxi management software.
Admin Dashboard
Admin dashboard displays real-time reports and statistics of passengers, drivers, bookings, rides, etc. It can be used to discover any changes in the overall business operations of the taxi management app and day by day targets can be developed.
In the admin dashboard, there is an advanced financial tool and analytics that in turn helps to make reports. Earning history in terms of daywise, month wise and annual wise can be accessed easily.
Dispatcher
Advanced taxi dispatch software can be controlled altogether from the admin dashboard. From taxi dispatching to servicing, the entire process can be simply managed with the help of an admin panel.
The dispatcher panel can be assigned the tasks to the drivers and provided assistance to them through dispatchers.
Learn More: Introducing New Web Panels in UnicoTaxi - What's New
Real-time Analytics and Reports
The main purpose of using real-time reports is for checking active drivers, comparing the earnings and number of rides, etc.
Those details are shown as a graphical form that is even better to compare with the target. Based on this report, admin can find the weak areas and make a decision for betterment.
Location Management
The admin can alter the location activities depending on demand created by ride request originating from the avoided location can be dismissed. And, this kind of limiting the zone of activity is known as geo-fencing.
Simultaneously, additional locations can be included by using this admin panel.
Promo Code Management
Cashbacks, discounts, offers and promo codes can be resolved based on certain categories such as customers, date and time in the web panel.
Admin can be set and changed the promo code validity, activity status and discount limit. It is automatically reflected in the taxi booking software.
Rental Package Management
In this web panel, admin can set the day/hour rental packages and add some other vehicle types and so forth.
Admin is able to set the tour packages, waiting charge and other extra costs with the admin panel itself. Whenever demand increases, admin can add the rental packages for gaining more customer retention.
Promotions and Advertisements
Different advertisements of offers, vehicles, hotels, and others can be placed anyplace on the taxi management app.
Moreover, admin can monitor the whole impression and snaps in the dashboard itself also admin can modify the shape, size, pattern and time period of promotion. Apart from that, web panels help to oversee effective self promotions.
Trip Cancellation by Rider/Driver
Admin dashboard shows the details of the total number of trips cancelled by riders and drivers - it can be useful for admin to check at any time.
Afterwards, the admin is able to send the alert to the driver and cancel the charge to the rider respectively. The cancellation charge can be modified by the admin after cancellation.
Ending Up
Hope you get a clear idea about the admin panel and its functionalities. Additionally, remember that the above mentioned functions are not comprehensive. It is basic for you to check whether these are supposed to be added in your taxi management software.
UnicoTaxi has an on-demand taxi booking app with a completely stacked admin panel. Coming to us, we have a professional development and design team whose have ensured that the admin web panel is acceptable on customer experience and UI with best in class highlights.
I swear you will definitely like our taxi management software and use our solution for your taxi business. To know more about UnicoTaxi, send a mail to sales@unicotaxi.com. Our business experts are ready to guide you 24/7.
Related Articles You May Like: