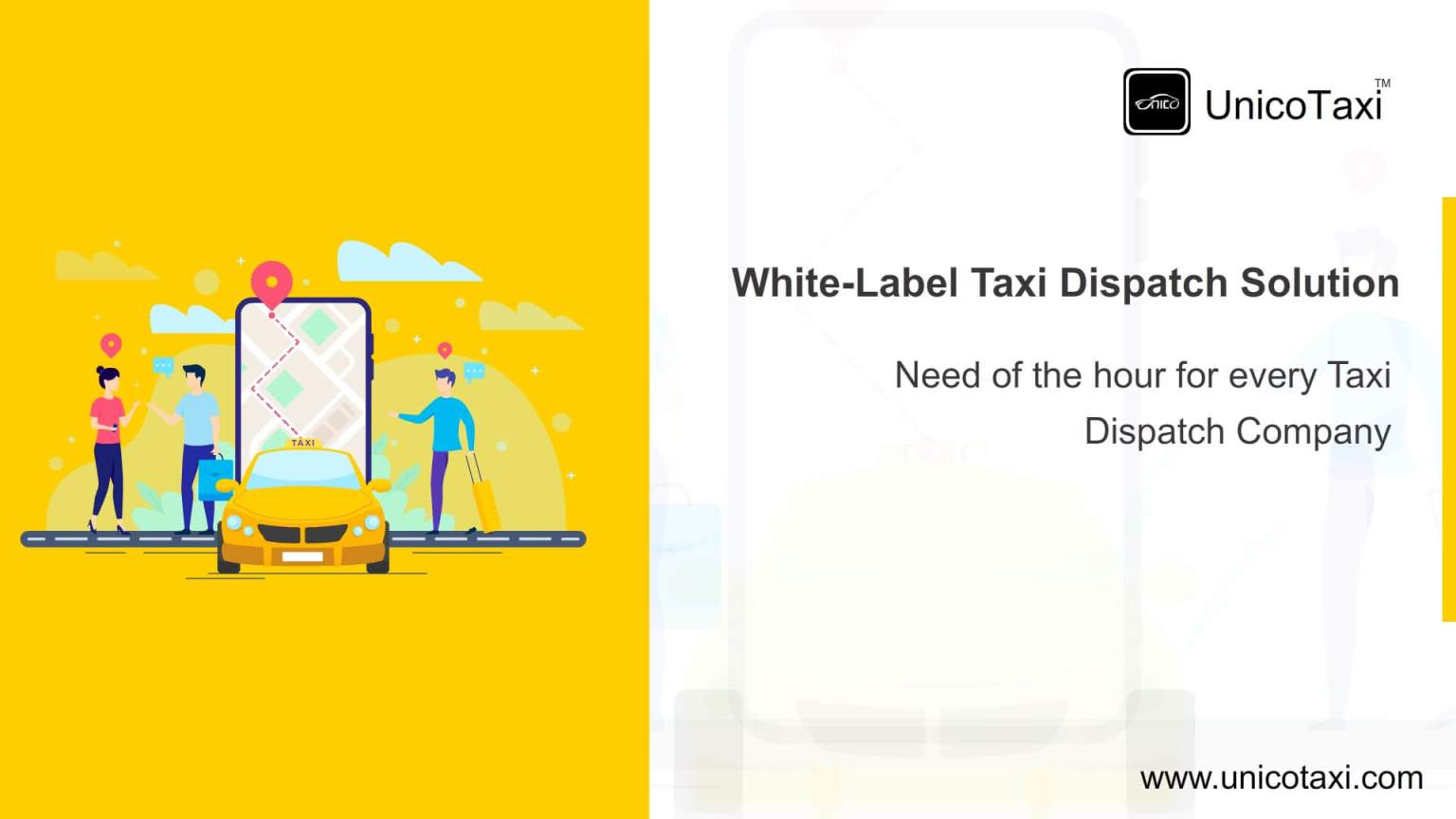 Modern taxi industry has made passenger's life so comfortable and convenient. In any case, the same can't be mentioned regarding taxi service providers and drivers.
Uber creates remarkable revolution; at same time it has made life hard for traditional taxi businesses. Are you too sailing on the same boat? Well, this discussion is for you.
To battle this competition, you have only one alternative and that is to launch a own white label taxi booking app for your business. You have 2 ways to do it.
You can either buy a white label taxi dispatch solution which is tested and verified already. Or, you can build a taxi booking app from scratch that will be customized as per your business needs.
You partition with regards to pick white label taxi app and customized taxi app.
In this blog, we will talk about why a white label taxi booking app is better than that of a customized taxi app by expressing its features.
On the whole, let's see the concept of white-label..
What Is White Label Taxi Dispatch Solution?
Advantages of White Label Taxi Dispatch Software Over Customized Taxi App
Low Investment
Quick Marketing
Significant Components of White Label Taxi Booking App
Passenger App
Driver App
Admin Panel
Final Thoughts
What Is White Label Taxi Dispatch Solution?
White label refers to the product developed by the organization that can be later rebranded in various names and sold to different companies.
In this digital world, white label is the software applications which are able to be customized according to the company brand getting it.
For instance, a product development company builds up a white label taxi app and afterwards sells it to different startup taxi companies.
Advantages of White Label Taxi Dispatch Software Over Customized Taxi App
Low Investment
Development of a customized app from scratch is highly expensive. You have to invest in research, design, development and test etc.
So, you should enlist designers, developers, testers and also you must recruit a business analyst that will make sense of the entire features required in your taxi booking app.
However, when it comes to white label concept there is no this much initial investment required. To get started, you just pay a one-time set-up charge and monthly charge for subscription.
Quick Marketing
Let's consider that you are the transportation owner of the company. Business competitors are harsh and savage.
However, yet nobody uses a taxi booking application. You examined that your taxi company and drivers will profit a great deal from a taxi app and planned to go for one.
Here, you will have 2 options such as,
Take ready-made while label taxi dispatch solution
Build an taxi booking app from scratch
If you decide to go for option 2, at that point it may take you a month and years to come up with the expected app which can toss you out of the position of the opposition as your competitor might have their own very own taxi app before you.
In this situation, white label taxi dispatch software keeps you ahead of your competitors in terms of the following benefits.
Brand Visibility
Higher ROI
Post Maintenance and Support
Significant Components of White Label Taxi Booking App
The below three components are so essential that must have in white-label taxi app.
Passenger App
For rider's convenience while booking a taxi, you can simply go with white label passenger app. With their contact number, they can install simply and register in the passenger app.
Then, they can mention their pick up and drop off location after that they hold up until accepting their request by a nearby driver.
Instantly, passengers will receive the real-time acceptance notification of the ride request.
Notification consists of the driver's name, contact number, vehicle number and rating of the driver.
GPS enabled passenger app provides real-time location of the taxis and estimated fare details before starting the trip.
Passengers can pay through debit/credit card or with a wallet with the help of in-app payment option.
Finally when the trip closes, the passenger is able to rate the driver.
Driver App
With the white label driver app, drivers can register themselves by a few easy steps. To receive a ride request, drivers can make use of this effective driver app platform.
Whenever a ride request shows up, drivers also receive a real time notification. Driver can either acknowledge or reject the ride request in a specified time frame that particular request goes to the following nearby driver. Through the app, the driver can call a rider.
GPS enabled app helps the driver to the pickup and drop off location via routes, directions and less traffic area.
Drivers can change the mode from online to offline with a single tap. Both passenger app and driver app displays the fare details after completing the trip. Drivers receive their earnings and trip histories from the driver app.
Admin Panel
Admin panel of white label taxi dispatch solution assists you in effective fleet management of all business operations.
It helps you to manage, control and monitor the overall activities of the drivers in real-time and allows you to solve the queries of the customers.
Admin panel gives you a detailed report & analytics that provides all essential information like total no. of bookings, earnings, ratings and more.
It helps you to make further business decisions.
Final Thoughts
In the current time where taxi business is developing quickly there is no space for time. If you go with a custom-built taxi app from scratch means you need to wait a couple of years.
What's more, there is a high chance that your taxi app may be out of date by then as terms are creating very quickly.
Remembering this matter in mind a ready-made white label taxi dispatch solution is the best approach. It won't require much time or investment to market. By adopting previously tested an on-demand solution, you can save your time and money.
All in all, what are you simply waiting for? To get your own branded white label taxi app, contact a leading taxi app development company.
Related Articles