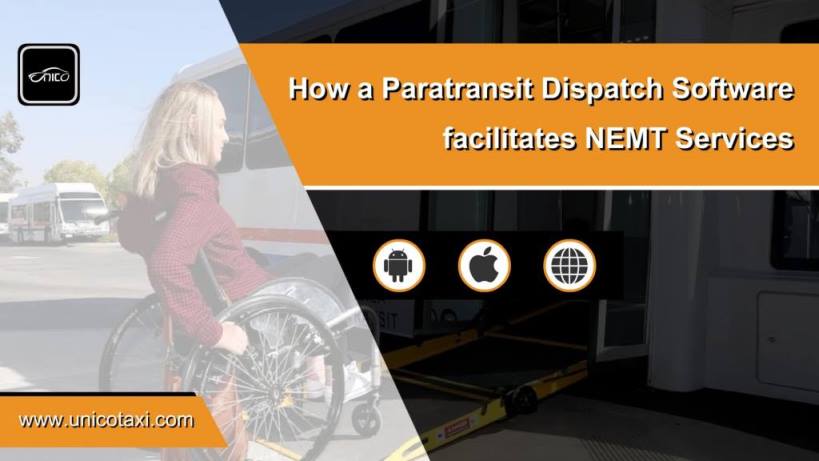 Traditional NEMT (Non-Emergency Medical Transportation) system meets lots of challenges that affect people who are under categories such as senior citizens, physically challenged and non-drivers. Those are expecting convenient rides to reach the healthcare centers. The Paratransit Dispatch System makes this possible.
Here is going to discuss how Paratransit Dispatch Software facilitates NEMT services in detail.
In the traditional NEMT system, there is a gap between patients and healthcare providers due to lack of transparency and unreliability in booking. According to the report, improper transit is also one of the reasons that people just skip their medical checkups for over a decade.
On-demand NEMT Dispatch Software can solve the above problems and create a way to get best NEMT services to customers from providers.
Convenient Booking Process
First, we will see the hindrances in the traditional NEMT system before raising paratransit dispatch software. Phone call was a tool to connect the NEMT service providers and hospital authorities or patients so there was no guarantee for timely responding as well as getting comfortable equipements like stretchers and wheelchairs whereas paratransit dispatch systems are user-friendly.
With the advancement of the NEMT system, patients or hospital authorities can simply book the NEMT service that assures to provide lots of options in vehicle selection.
Moreover, the booking process takes only a fraction of a second.
Get Real-Time Updates
Tracking issues had occurred while booking through offline whereas paratransit software assures to provide appropriate tracking details.
GPS enabled NEMT system has an in-build tracking feature that helps transport service providers in order to get real time updates on each and every ride.
Ofcourse, safety is a major reason for vehicle tracking at the same time we can find the area where traffic takes place and plan the route accordingly to reach the location.
Service Availability
In the traditional NEMT system, people have been affected by unavailability of the services so they were missing their medical appointments.
When it comes to NEMT dispatch software, everyone can get the service because NEMT services are available in almost all areas whether it is rural or urban.
NEMT Dispatch software integrates scheduling features that in turn helps to boost the engagement among customers and providers. It means that NEMT service providers can gain extra revenue.
Effective Streamline Operation
For the past decade, some of the barriers in the traditional NEMT system during communication among stakeholders like patients, transport providers, healthcare providers and health insurance companies. Probably, there was a difficulty in managing overall operations.
With Paratransit Dispatch Software, you can manage all the NEMT segments and streamlining operations effectively. It may be helpful to increase the optimal growth of your business.
NEMT Dispatch & Billing Software gives premium scope to boost the system efficiency and business productivity.
To enhance NEMT business with advanced features, you may contact us to get customized software.