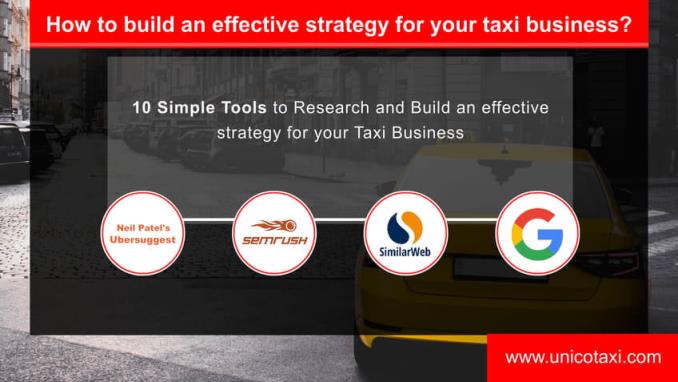 " Research is creating new knowledge "
-Neil Armstrong
Not only the taxi business but the foundation of any business depends on research. A detailed study about the market for your product, your competitors, your target audience and their presence (where they spend most of their time) everything plays a major role towards your success.
In Taxi Business, research about your competitors, their marketing strategies and knowledge about your customer behavior will help you to build an effective strategy for your business.
Now, there would be many questions in your mind like
How I should start my Research?
Is there any tool available for such research?
If so, is the tool free or paid?
Don't worry, we are here to help
A sneak peek -
Statista & Google Trends - for Market Research
Google Search, Google Keyword Planner & Ubersuggest - for Competitor research
Make My Persona, Facebook Audience Insight - to find and analyze your ideal customers
SEMrush & SimilarWeb - for analyzing competitors and to build a Compelling Marketing Strategy
Let's, Explorer
Step 1 - Market research
Statista - It is an online statistics, market research and business intelligence portal.
It will provide the necessary insights as per your queries. For instance, if you want to know the number of monthly active Facebook users worldwide, Statista will provide the same.
Google Trends - When you visit Google Trends, you can see "Explore what the world is searching" and it is true you can find what is trending around the world or in your country.
Step 2 - Find your Competitors
There are two main categories of competitors. One is direct competitors & the other one is Indirect competitors.
Direct Competitors
Direct competitors are the one who offers or sells the same product/services as you do and they are easy to find. In the case of indirect competitors, it's hard to find them. Let me show you some ways to find your indirect competitors.
Google Keyword Planner - It is completely a free tool from Google. You can use this tool to find the keywords relevant to your industry and also check the competition for those keywords to promote your product/service.
Ubersuggest - It is also a completely free tool. You can check the keyword search volume, keyword suggestions and competition for those keywords similar to the Google Keyword Planner.
Google Search - It is a hidden treasure. If used properly, it will be an added advantage for your business. Based on your product/service keywords, you can find who and all competing for the same product/services as yours.
Step 3 - Analyze your Competitors & Build Marketing Strategy
I hope you have found your ideal keywords and using the keywords you would have gotten a list of your competitors.
Now, we'll see how to analyze your competitors and plan your marketing strategy.
SEMrush - It is a paid tool but you can use their 14 days free trial version. Using your competitor website, you can get a detailed report about their organic keywords, paid keywords, backlinks & even their ad content and so on.
SimilarWeb - Similarly like SEMrush you can find insights about your competitors.
But before planning the marketing strategy we need to know about your customers.
Step 4 - How to find your ideal customers
Make my persona - To run a successful business you need to know your customers and competitors. Make my persona helps you to create a customer persona from simple questions answered by you. So that you'll have a detailed picture of your customers like their age group, demographic and their interests.
Now you know your customer persona but how you can find where they hangout the most. There are many tools available to find the presence of your target customer but here we are going to see how to find their presence on Facebook.
Facebook Audience Insight - It is completely a free tool. Using this tool you can search your audience based on your customer persona on Facebook. So you can be aware about their presence on Facebook.
Build an effective marketing strategy
Now, you know about the market for your product/services, competitors and target customers & their presence with all the data you can build a compelling marketing strategy to compete with your competitors and attract more customers towards your services.
Lets detailly discuss about how to build an effective marketing strategy with the data gathered in our next blog.