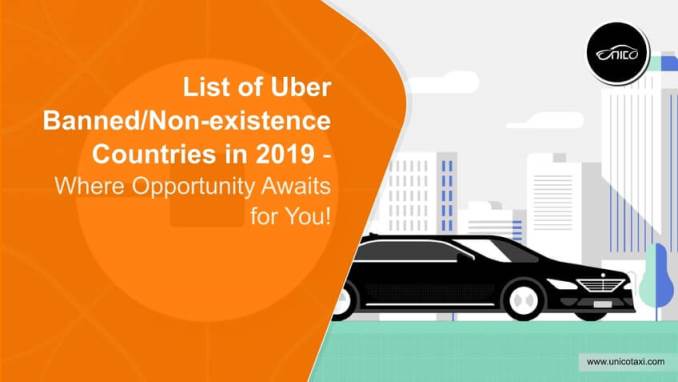 Uber has been dominating the TNC market globally for almost 10 years. Lately, you have been heard/read that Uber is banned from some countries. Is this true?
If you Google about the Uber ban/voluntary pulled out, the news will be like a year old. You won't find any proper source to know about the list of countries in which Uber has been banned/voluntary pulled out in 2019.
Here, I have compiled a list of countries in which Uber has been banned or Non-exist in 2019.
Absence of Uber means there is an opportunity for YOU to take advantage of the Profitable Market Space.
Come let's explorer one by one,
1. SouthEast Asia
If you are in Southeast Asia, you can't book a ride with Uber except if you're in Singapore. Yes, you have heard me right.
Uber has announced that it has sold its Southeast Asia-based business to rival Grab. - Source TechCrunch
Singapore has ordered Grab to delay closing Uber App till May 7, 2018. Even though you can see Singapore is listed in Uber's official site.
Looking to invest in South East Asia, make use of this opportunity to start your own ride-hailing business.
2. Germany
Due to legal restrictions, Uber operates only in a few cities and banned or voluntary pulled out from some parts of Germany.
Find the list of German cities in which Uber doesn't exist.
Nuremberg
Dresden
Bonn
Heidelberg
Bremen
Aachen
Trier
Lubeck
Mainz
Hanover
Regensburg
Essen
Augsburg
Wiesbaden
freiburg im breisgau
Potsdam
Wurzburg
Weimar
Dortmund
Mannheim
Erfurt
Koblenz
Rostock
Kiel
Kassel
Duisberg
Magdeburg
Braunschweig
Bamberg
rothenburg ob der tauber
Ulm
Osnabruck
Saarbrucken
Halle
Bremerhaven
Baden-baden
Erlangen
Darmstadt
Chemnitz
Gottingen
Jena
Schwerin
Wolfsburg
So if you're in Germany, make use of this opportunity to start your own ride-hailing business.
3. Middle East Countries
Here I have listed few most popular cities in the Middle East countries where Uber doesn't exist.
Muscat and Nizwa, Oman
Abu Dhabi, UAE
Beirut and Byblos, Lebanon
Petra and Amman, Jordan
Kuwait City, Kuwait
Make use of the Opportunity.
Bonus Information
United States
Yes! Even though the United States is their own playground where they dominate the TNC market, Uber doesn't exist in the above mentioned U.S. cities.
So if you're planning to start a ride-hailing business in the United States make use of the opportunity.
In the end, Uber was not local enough to operate in the above-mentioned cities.
"15 million ride-hailing trips are happening each day and this will gigantically increase and will be hitting a 100 Million mark by 2030"
So Kick start your own ride-hailing (profitable) business of the century with Uber-Like Taxi app.